Kilwinning Crosse Hosts Historic Organizations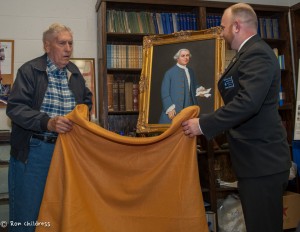 On Sunday, October 25th, Kilwinning Crosse played host to a myriad of historic organizations including the Historic Society of Caroline County and Historic Port Royal.  At this quarterly meeting, the Historical Society of Caroline County provided food and drink to their guests and recognized the history of Kilwinning Crosse lodge as a Caroline institution.  The Worshipful Master provided a 15 minute presentation to the crowd of dozens on the history of the lodge and Masonry in general.  Attendees were thrilled to also view several of the historical relics still in possession of the lodge.
Also at this event was the unveiling of a portrait gifted to the lodge by Mr. Herbert Collins.  Mr. Collins is the former Executive of the American Heritage Museum and boasts a resume of positions and experiences too laudable to summarize in a short article.  He has worked tirelessly to provide Historic Port Royal and the community of Caroline County with historical relics and portraits to document it's history.  When Mr. Collins discovered Kilwinning Crosse's possession of a circa 1750's portrait of our first Worshipful Master Patrick Coutts, he asked if he could take a picture of the portrait to have a copy made.  Upon agreement between the lodge and Mr. Collins, he generously offered to provide the lodge with a painted copy of Patrick Coutts free of charge.  At the meeting of the historical societies on October 25th, the portrait was unveiled much to the pleasure of all in attendance.
Mr. Collins was also award a Community Builders Award from the brethren at Kilwinning Crosse signed by the Grand Master of Masons in Virginia.
Also in attendance were several brethren including past DDGM and member RtWor Wayne Brooks, past master Wor Ron Childress, current DDGM RtWor Jeff St. Onge, and DEO Wor. Shelby Chandler.