May 2015 Trestle Board
Please CLICK HERE to download a full PDF copy of the Trestle Board.
A Message From The East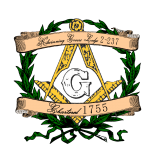 Last month saw our first formal contact between Welcome Lodge No. 125, PHA and Kilwinning Crosse Lodge No. 2-237.  The concepts of unity and fellowship between brothers is fundamental to who we are as Masons.  I have always taken great pride in the unique sense of purpose, identity, and harmony that brothers at Kilwinning Crosse has exemplified and hope that our interactions with our brothers in Prince Hall maintains the same benevolent tone.
On the subject of harmony, I am reminded by my Senior Warden and mentors that it is the principles on which our fraternity stands that makes us truly "Masonic".  The history, accolades, and titles gained throughout our Masonic labors are admirable, but they do not supersede the lessons we are taught by the tools worn by our three stationed officers.  I once heard of an instance where a visiting brother entered a lodge and spent his time critiquing ritual with a friend and performing subtly disrespectful actions that showed disapproval for lodge officers.  He went back to his home lodge to share how ineffective he felt the lodge he visited was at their regular labors.  The brother was quickly reminded (in the most friendly manner) that the lodge he visited rarely quarreled and readily welcomed any and all into their meetings.  The brother was also reminded that it is those tenets of benevolence and harmony that make a Mason, not self-appointed feelings of importance or superiority.
This anecdote applies to our own Masonic journeys.  With so many opportunities to serve the craft, and so many historical organizations to join in our area, it is easy to get wrapped up in the administration of a fraternity, or the grandioso reputation of our lodges, and lose sight of the principles on which we were founded.  Let all Master Masons be challenged to not only call ourselves 'Mason', but to truly act as Masons both in our lodges and in our day-to-day lives.
This month, our program will be on the Knights Templar and will be delivered by Sir Knight William Reinhold, Past Grand Commander of Knights Templar in Virginia.  All Sir Knights are invited to wear their uniforms (without sword or chapeau) to represent their Commanderies.  Also, please join us Monday, May 4th for an Entered Apprentice Degree at 7:00pm.  Light refreshment to follow.
Other Announcements
Stated Communication.  The May Stated Communication will be held at the Masonic Temple in Bowling Green Va. on Monday, May 11th at 7:30 pm.  Dinner will be served at 6:30pm.  Meal cost is $10 per plate.  This month's program will be a lecture on the Knights Templar given by Sir Knight William Reinhold, Past Grand Commander of Knights Templar in Virginia.  All members of the Knights Templar are invited to wear their uniforms to the May Stated.
May Pancake Breakfast:  Our pancake breakfast will be April 16th, the Saturday following our Stated.  Cost is free, but voluntary donations are accepted.  All proceeds will go towards subsidizing the purchase of new jewel collars for the lodge.
Official Visit Scheduled for Tuesday, May 12th (Hudson Morris):  We will be paying Hudson Morris a visit this month.  If you have never visited Hudson Morris, they have a great lodge building and a friendly atmosphere that you will all find familiar and inviting.  I highly recommend joining us for their May Stated Communication.