Child ID at Caroline County Family Fair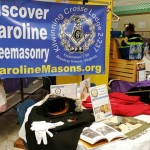 Four brothers of Kilwinning Crosse, 2 officers, 1 Master Mason, and 1 Entered Apprentice, served the community at the Caroline County Family Fair by providing child ID services through the VACHIP program.  Event organizers placed the child ID table at the entrance of the event where children were required to register.  An informational table was also placed in the main 'vendor' area of the Caroline Middle School where fair-goers could ask about Freemasonry and learn about the history of Kilwinning Crosse.  In total, 20 children received ID services and over a dozen individuals came to ask questions at the information table.  This event was very much a last-minute opportunity for our lodge and all involved stepped up to the occasion.
A special thank you to Child ID Coordinator and Senior Warden Tim Lewis as well as Bro Mark Bissoon and our newest Entered Apprentice, Bro Anthony Prothero, for their assistance in this event.  If you know of any other venues where child ID services could be provided, please let us know at the next Stated.