Freemasons are, at their heart, a philanthropic organization.  Serving fellow masons and the community around the lodge is a key tenet of our fraternity.  Masonic lodges offer a variety of services for both masons and non-masons.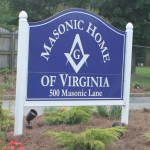 Services for Masons
Master masons are entitled to certain services that are offered by the lodge or can be facilitated through the appropriate Grand Lodge representatives.  These services includes things such as access to the Masonic Home of Virginia and conducting funeral rites for those brothers who have laid down their working tools and departed this life.  If you are a family member of a master mason and want to know more about these services or are a master mason yourself, let us know how we may assist you and we will expend every resource to ensure your need is met.
Charitable Services
Freemasons contribute over $1.4 million per day (or nearly $0.5 billion per year) in charity.  The local lodge contributes to charity through donations to masonic and community funds, offering Child Identification Program (CHIP) services, and supporting the American Red Cross during blood drives.  Kilwinning Crosse's most common community service is Virginia CHIP which allows parents and guardians to receive a free identification of their child.  These IDs are invaluable in the event of a child getting lost during a shopping visit or other unforeseen events.  If you would like the Freemasons to support a community event or charitable opportunity, reach out and we will bring it before the brethren for support.
Ceremonial Services
Did you know Freemasons can conduct public ceremonies?  The most popular ceremonies conducted by Freemasons, other than those offered for fallen brothers, are cornerstone laying ceremonies and parades.  These ceremonies come along with their own ritual and practices as set forth in our ritual and can be used at masonic and non-masonic events.  In addition to these ritualistic ceremonies, we also support meetings of community organizations and historical societies by use of our facilities and offering presentations.  Let us know if you would like a masonic presence at your event and we will be happy to discuss what services can be offered.